PUMA "CLYDE" RE-LAUNCH @ SPORTIE LA
One of Puma's most beloved basketball sneakers makes a return.
The first re-issue of the PUMA Clyde is an identical of the original shoe. Distinguishing features include gold block CLYDE lettering, authentic green tongue label and single color cotton laces. In keeping with the 1973 edition, the signature heavily textured and seamless midsole transitions smoothly to the outsole with no demarcation lines. A gold stamp on the sock liner replicates the "Real Leather" ink stamp that was placed on the first Clydes.
To signify this early release, the addition of a city name is stitched onto the outside lateral heel to denote one of the key 2005 launch event cities, New York, London and Tokyo. The heel window features No 1., No 2. and No 3 to correspond with each launch city. 1000 pairs globally will be produced in navy-natural, the original style that Frazier wore the most, as well as natural-orange and orange-navy, two color combinations that reference Clyde's game jerseys.
Currently, the PUMA Clyde dropped in 40 select retailers globally and retails for $100. In October and December 2005, additional color ways of the PUMA Clyde will become available with a larger distribution.
BIG UPS TO AILEEN, SPORTIE LA AND THE REST OF PUMA'S WONDERFUL STAFF FOR MAKING IT HAPPEN THIS PAST SATURDAY!
The shoes:
The man:
Walt "Clyde" Frazier in the house!!!
The DJ:
Signing kicks: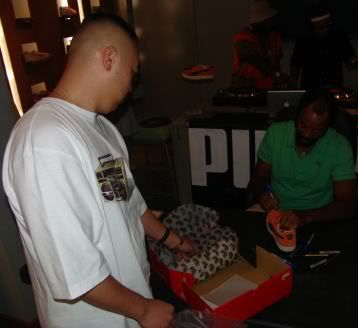 Support: