DJ SHADOW x OBEY x KID ROBOT
A DJ Shadow / OBEY Reconstruction
DJ Shadow, acclaimed hip-hop and electronica artist, and Obey's Shepard Fairey, 'street art' pioneer, are proud to announce the release of a limited edition clothing and music project entitled "PUBLIC WORKS." The box set will become available on September 1st, 2005 at shopdjshadow.com and at all Kidrobot retail locations nationwide.
Consisting of five t-shirts, a brand new, full-length mix CD by DJ Shadow, a copy of Shepard Fairey's book "Post No Bills," stickers, buttons and other surprises, the PUBLIC WORKS package is limited to 450 pieces, priced at $169.99 each. Designed by Fairey himself, each box is hand assembled and numbered. Four out of five of the shirt designs included in the box set will be made available separately at www.shopdjshadow.com, beginning in September with Shirt #1, and proceeding in monthly increments. The fifth design is exclusive to the box.
Fans in the Los Angeles area will have an opportunity to snap up the box a week early at the PUBLIC WORKS release party August 25th, 2005, at Kidrobot in Santa Monica, CA, from 6-8pm. DJ Shadow and Shepard Fairey will be on site signing box sets and past projects. Also available for sale, that evening only, will be an exclusive PUBLIC WORKS print of one of Fairey's designs.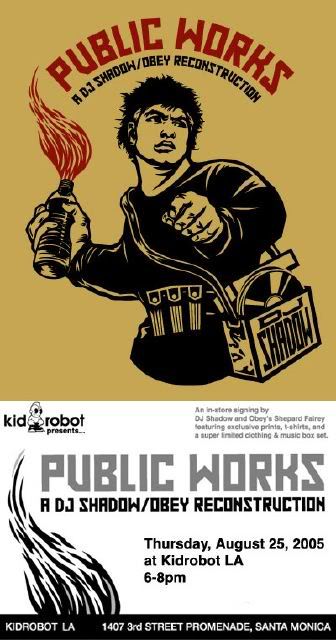 The address of the in-store is:
Kidrobot
1407 3rd Street Promenade
Santa Monica, Ca. 90401
(310) 576-7766
For more info: