LACE MAGAZINE DROPS ISSUE #5
This time the big geographic emphasis lies in Hamburg, the city on the go. Up there Nina Braun, formerly of Sumo-Clothing, is knitting somewhat different loafers. Lace present to you the detailed pieces and talk to the lady herself. Up to no good are Deichkind who got something to say about mixed music and sneakers. The store detector leads the way to the most interesting sneaker spots in the city. At online mailorder Frontline we're looking behind the scenes this time, as well as at the Nike-ID-Shop and Ellesse.
Of course Lace brings you Up To Date with the latest in sneakers from around the world.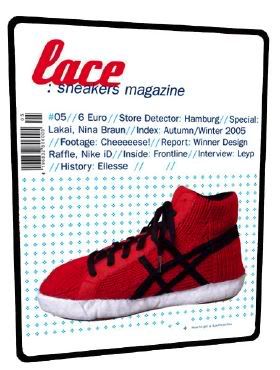 If you need copies and are in the US, drop me an email:
erth1@awakethinklab.com
Otherwise, start bugging your local sneaker boutique to hit me up and stock Lace Magazine.
Peep the site:
www.Lace-Mag.com