FROM STADIUM TO THE STREET - LA - JUNE 2, 2006
Nike has teamed up with Rime Magazine to present the LA edition of "From Stadium To The Streets." Nike and Rime have invited select latin designers to customize World Cup apparel for an awesome cause. There will be a silent auction of each designers final pieces with proceeds going to HOLA (Heart of Los Angeles Youth) and their newly established futsal league at Lafayette Park.
FRIDAY JUNE 2, 2006
8PM - MIDNIGHT
SILENT AUCTIN: 8P - 10P
Featured designers are:
Alicia Lawhon
Edoardo Chavarin
Freddie Rojas
Frecuecia Modulada
Juan "Lucky" Alvarez
Miguel de La Barracuda
Patrick Martinez
Nike Football Club
7018 Melrose Ave.
Los Angeles, CA 90038
RSVP:
joga.bonito.us@nike.com
(invite is good for you plus one guest)
Valet parking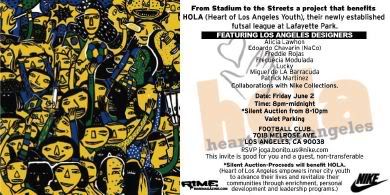 ..........................
www.nikefutbol.com
www.rimemagazine.com