EVENTS - COMMON IN LA!
Los Angeles, California August 20, 2005
Grammy Award winning conscious rap artist "COMMON" along with DJ Maseo of De La Soul and John Legend will host a night of fashion, art and musical explosion at Gower-Sunset Studios on August 20, 2005 to help raise awareness for the Common Ground Foundation. This eclectic event will take place between 9pm – 3am at Sunset Stage in Los Angeles, California.
This extraordinary event presented by The Common Ground Foundation, Inc, Becker Entertainment, and Fusicology.com will include a night of Live Art installations, a fresh fall fashion preview by hot designers, silent auctions and special guest appearances by DJ Maseo of De La Soul, John Legend and DJ Erik Rico. The night will also feature special guest performances by Grand Agent and Hezekiah. Limited presale and VIP tickets with hosted bar can be purchased at http://commonground.fusicology.com for $25 and $50 respectively. VIP area supported by NaVan Brand from the house of Grand Marnier / owned and managed my Moet Hennessy USA.
The Common Ground Foundation, Inc., which was founded in the summer of 2000 by Lonnie Rashid Lynn, more widely known as, Common, is a non-profit organization dedicated to utilizing the cultural relevance of Hip-Hop to serve as an advocate for justice and education to fight poverty and increase health awareness among youth in underserved communities throughout the United States. The Common Ground Foundation strives to implement programs that broaden life experiences, promote cultural awareness and emphasize self-empowerment of youth. It is the Common Ground Foundation's goal to benefit the spiritual and social development of youth by addressing societal concerns fundamental to the well being of the Hip-Hop generation.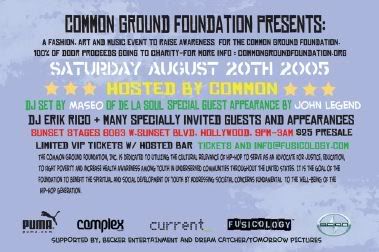 This event is sponsored by Current TV, PUMA, Complex Magazine and Scion: Sessions
For more information: